Unique inside - lining and seams
The inside of the shoe means a lot for its comfort. New Feet pays special attention to the materials that are in contact with your skin. Our lining materials are therefore sustainably certified.
The inside of the shoe means a lot for its comfort
New Feet uses a special technology to prevent internal seams in the footwear from bothering the skin. We do this primarily because we focus on diabetics' need to avoid abrasions and pressure sores on their feet.
But it also benefits all other feet ....
OnSteam® lining
OnSteam® lining is also called technical leather, as it looks and feels like leather. It is a microfibre material that allows 6 times as much moisture transport as leather and is faster at absorbing moisture. The result is better comfort in footwear that feels dry. The material has an antibacterial effect and is sustainably certified.
For diabetics, OnSteam® has the great advantage that it does not become stiff or crack like leather can do over time.
OnSteam® is produced without impacting the CO2 balance.
Picos®
Picos© is our warm and dry lining.
Skin-friendly and suitable for diabetics
The material is laminated with a water-repellent membrane
Heat insulating and moisture transporting
Durable Picos® is produced with no impact on the CO2 balance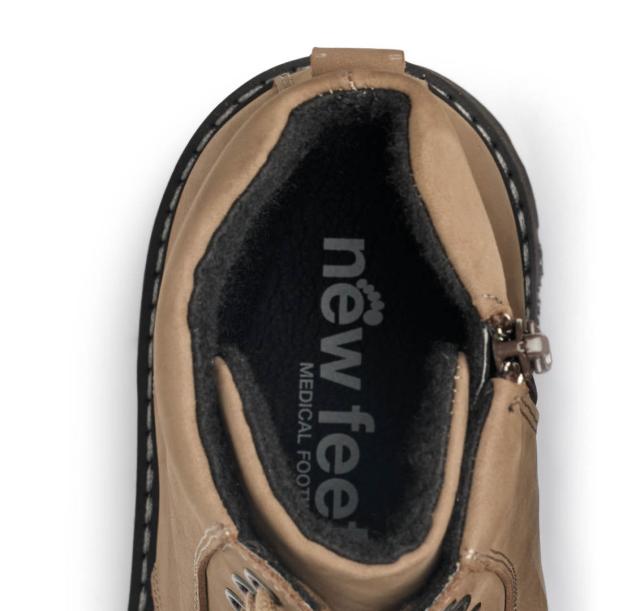 Mesh
Mesh is a sporty breathable lining. It is sustainably certified and very comfortable for the foot.
Micro fibre
Micro fibre is mainly used in our professional collection, where the low-friction properties and durability of the micro fibre are important.