A construction with options
New Feet has a background in the orthopaedic tradition. We have chosen to build our footwear with a Strobel construction, which is the technical term for a construction used in the orthopaedic world.
Strobel "glove" construction
To include all the important features, we choose to construct our footwear with a Strobel construction, which is the technical term for a construction used in the orthopaedic world. We sew the upper and midsole together like a glove before attaching it to the outsole.

The Strobel construction allows us to build stability in the heel and provide flexibility in the front foot.

The construction also gives us ideal opportunities to use stretch materials. See more under OrthoStretch®. We integrate a shank in the outsole to achieve the desired stability.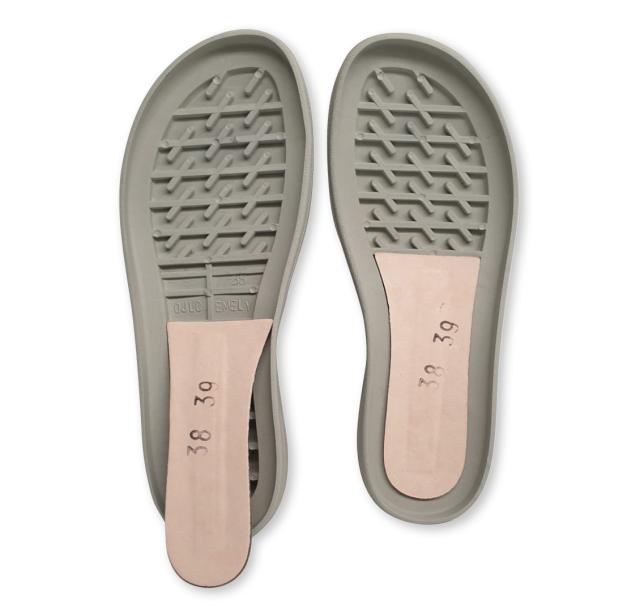 What is a shank?
A shank is a brace for the outsole - also called a gelenk.
We mould it into the outsole to ensure stability in the heel part.
The strength and size of the shank is decisive for how stable the footwear will be.
Normally, the shank is not in the forefoot, as we want flexibility in the front. However, in the case of footwear with a rigid rocker function, the shank can run through the entire length of the sole.
Fit
To walk as appropriately as possible, your footwear must fit your foot, and since feet are different, we must also offer many fits - many lasts. Therefore, you will find that we have many different outsoles - the shape of the outsoles and lasts must fit together. Typically, the biggest difference in the lasts is the shape and width of the forefoot and around the arch.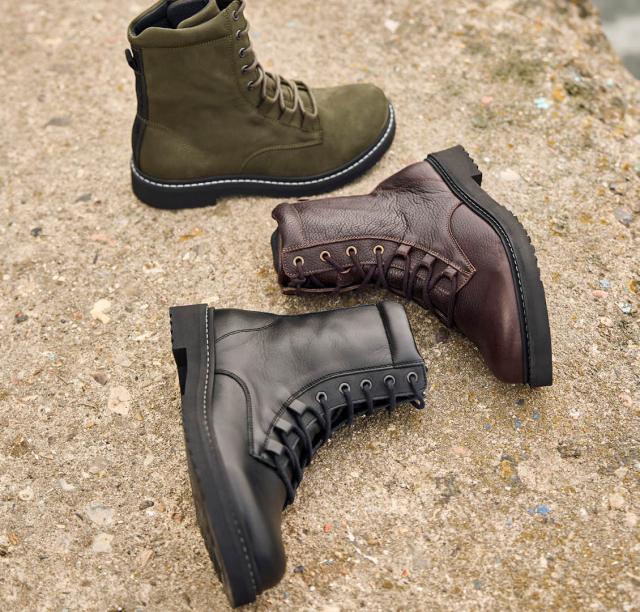 Stability
We place great emphasis on keeping the heel in place in the footwear and that the outsole is not too soft and unstable when you walk. The Strobel construction allows us to integrate a stabilising shank in the outsole. This prevents the sole from twisting and bending at the back when you walk. This is supported by us using oversized heel caps and make them in a thermoplastic material, so that they can support your heel.
Flexibility
We all have different requirements for our walking function. Therefore we have outsoles with different levels of flexibility in the forefoot. The Strobel construction can be used with many types of outsoles with different degrees of flexibility.
Different feet need different outsoles.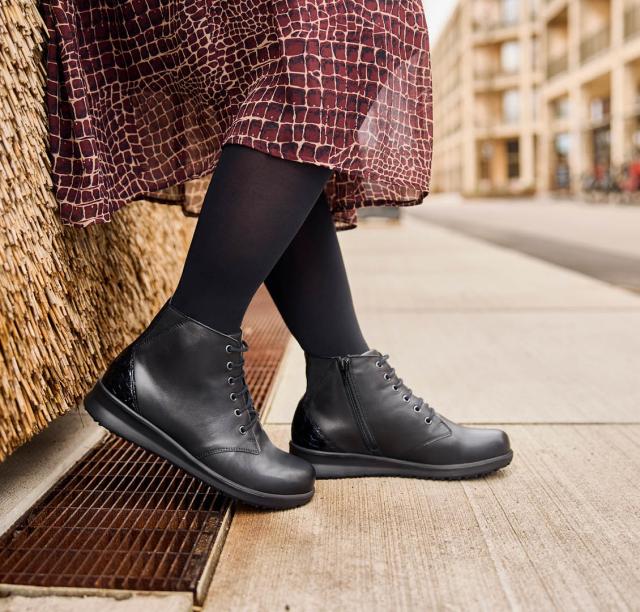 Shock absorption
We all need to protect our body from impact from hard surfaces. In a modern society, most people move about on hard surfaces. As the outsoles have to take care of a large part of the stability of the footwear, they are also not suitable for most of the shock absorption. The solution is to place the shock absorption inside the footwear. We have selected the best material from the medical industry for shock absorption in our Protektor® insoles.